Hey guys....we have some very important rules we would like to explain so please read everything on this page!!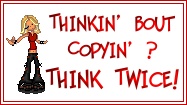 Copying

You'll probably see a copying message that loox just like this on here on the bottom of every page...that is a message just to remind you to ASK US FIRST before copying ANYTHING!! if you havent seen it look for this picture at the bottom of each page. We are fine with people taking things from our site but ONLY and ONLY if they get our permission FIRST. If not, then you dont wanna kno wut will happen...lol! but please dont take anything without asking...we might say no on sumthings but only on very few things. You would be WAY better off asking us FIRST than just taking it and asking afterwards or not at all.

We would really appreciate if you would just let us kno!!
Contacting Rules

We would only like it if you would contact us in a friendly way. We are happy to take suggestions or complains as long as you be NICE...if that isnt too hard...lol. We will ignore you if you send us a rude message. If we dont answer you and you dont kno wat happened then check your message and wut u said to us. The best way you could contact us is probably by AIM and if you dont have it then please email us.
Contact Information

Here are our emails and AIM screen names!!

Email:

Leslie:

Jessie:

AIM screen names:

Leslie:

PimPinBrunette58

or

COCOcoatedBLONDE

Jessie:

jdawgdizzle610

or

iluvhersheykissx

or

xo berry sunset